Shelter Dog Escapes And Tracks Down The Woman Who Fed Him Treats
"He busted out of his kennel and traveled over three miles, to a place he'd never been, to find the kind woman he only met once"
When the German shepherd mix named Ted arrived at the Northwest Territories SPCA in Yellowknife one Friday, he was scared and alone.
But the next day, he captured the attention of a shelter worker named Abbey, who noticed how afraid Ted was. So, Abbey decided to try to help Ted. Although, at the time, she didn't know that act of kindness would end up changing both of their lives.
It all started when Abbey decided to take Ted for a walk. But Ted was too timid and wouldn't allow anyone to walk him. She recalled,
"He wouldn't let me take him. Nobody could walk him for a day."
So, to gain his friendship, she began feeding him cheese-flavored bacon strips. She shared,
"I fed him cheese-flavored bacon strips to try to get him to love me," said Abbey.
Photo Credits: Abbey Boyd
Abbey also noticed that Ted's kennel was a little small, so she asked the maintenance guy to build him a larger kennel. But then she was busy and had to go on with her day. She said,
"Apart from that, I had next to no contact with Ted during my shift at the SPCA. I left and went home," she said.
Then at 3 am, Abbey had to go to her job at the airport. She returned home three hours later and was greeted by a stray dog sitting on her deck and barking at her.
She was wary to approach the dog but finally got up her nerve. As she walked past the dog, the dog ran down her deck steps and past her but stayed on her property.
So, she then lured the dog into her home and that's when she noticed a small nick on his nose and realized it was Ted!
She called the SPCA and learned that Ted had busted out of his kennel and escaped through a chain-link fence. And that's where the mystery begins because no one has a clue how Ted found Abbey's home.
You see, the SPCA shelter is in an industrial area outside of town. Ted had to travel 5.5 kilometers through established roads to reach Abbey's house, which would mean passing the Yellowknife Airport and possibly crossing some ponds and streams.
Photo Credits: Abbey Boyd
"It doesn't make sense, how he would have chosen or found me out of all the smells," said Abbey.
She went on to share,
"It's just, it's the weirdest, the most amazing thing that's ever happened."
"It could be a complete coincidence, but I'm from Yellowknife. Everything's a sign when it comes to animals," said Abbey.
"I can't ignore a sign like that. He showed up at my house, out of how many people [that] live here? All the dogs. All the smells. He chose my house. Where I am."
After all that Ted went through to find her, Abbey knew she had to give him a home. She's now in the process of adopting him, which will require her to move since her current residence doesn't allow dogs.
So, in the meantime, she spends time bonding with Ted and taking him for walks with other dogs. She says he never leaves her side and is constantly looking back for her.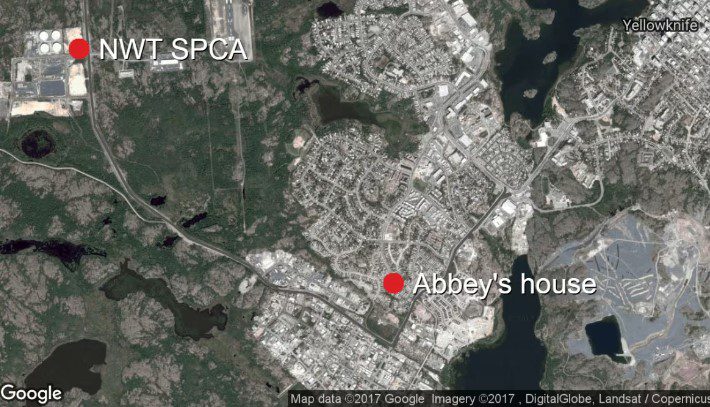 Photo Credits: Abbey Boyd
"[I'm going to] build my bond with him that apparently, he senses more than I do. [He's] literally sitting on a platter ready to be loved and taken care of."
"He's coming with me."
Ted is a German shepherd and Akita mix. According to an Akita breeder, Akita inus originate from Japan.
"Their original use for the dog was to hunt and kill bears in Japan. They have a good nose for tracking," said Cheryl Sadler, an Akita breeder of 35 years in Alberta.
"They are more of a one-person dog. They bond with one," said Sadler, saying that it must have been the kindness Abbey showed to Ted that "really imprinted on him."
But Sadler said she finds it "surprising" how Ted escaped the kennel and found Abbey's house, just after one encounter.
"They don't tend to wander, which is interesting."
Photo Credits: Abbey Boyd
"The one thing that sets them apart is their extreme loyalty," she said.
"They're very determined," said Sadler, laughing.
"They have a mind of their own. They have a strong drive to achieve something."
She may be surprised, but we're not because Ted has a double dose of loyalty since he's also a German shepherd. One of the most loyal dogs on the planet. We hope you enjoyed this amazing rescue story. Feel free to share with your friends.